Start Your Fitness Journey With Us!
At CrossFit Oshawa (CFO), we build with purpose, execute with virtuosity, in the name of health. You too, can join us on our journey and build your greatness.
Learn the Foundations of CrossFit
It's true that CrossFit is only for athletes, if you are reading this, you are an athlete. To us, everyone is an athlete of fitness.
We scale the movements, loading and intensity so that new athletes can practice the correct technique leading to consistent mechanics in order to thrive in our environment.
Let CrossFit Oshawa be the best hour of your day!
If you're new and would love to try CrossFit, we introduce the foundational movements we do at CFO through three one-on-one sessions.
We want athletes to come into class with a positive attitude, ready to learn, ready to be coached, and ready to make this the best hour of their day.
Crossfit Oshawa – CrossFit
Back Squat
CFO Class: Back squat
Back squat

cluster set
E2MOM x 8

5 squats + 3 squats
E2MOM x 8 = Every 2mins on the 2mins for 16mins
In a cluster set athletes will perform the initial required reps set the bar down in the rack for 10seconds and then hit the next required reps. In our case it will be 5 back squats 10 second rest followed by 3 back squats for 8 total reps over 8 sets.
Metcon (Time)
CFO Class: MetCon
4 rounds for time of:
100 Double unders

10 Thrusters 135/95 lbs

15 Toes to bar
A classic triplet balanced through conditioning, heavy barbell, and high rep gymnastics components. We know in these workouts we need to manage our work:rest appropriately, attempting to keep the first round very similar to the last round. A major area of focus will be to save the shoulders as much as possible, we can do this by relaxing the wrists on the skippping rope and driving with as much leg as possible on the thruster, looking for speed through the middle. This should allow us to sustain a higher level of intensity over the four rounds without as much fatigue.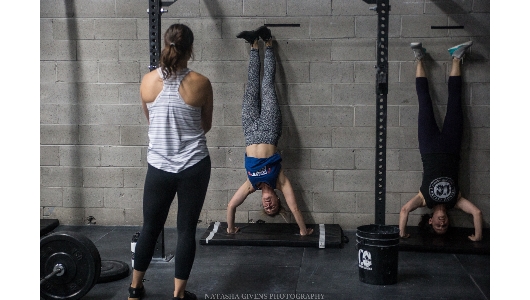 Just wanted to thank you again seeing as I am now starting into my 6 month mark with CrossFit Oshawa.

The continued genuine interest and support in ensuring your clients are doing the wods safely and effectively has been instrumental for me.

The increased weights lifted are the easy measurables and still exciting to see that progress, but what hit me more this week was the not so easily measured successes.

Going from not being able to do one overhead squat with the pvc when I started to actually completing a wod containing overhead squats and doing it with the bar is an incredible feeling of accomplishment and motivation to achieve more.

That is just one example of what I have noticed these last few weeks.

As you both know my personality does not like to slow things down and work on the position before the weight gets added and you have both shown and proven to me to trust the process.

That's enough rambling 🙂
I just wanted to say thanks and let you know you guys are great at what you do!

I just completed my first session and absolutely loved it, after I hurled (lol). Kidding. I can no longer walk up and down my stairs nor pick up pots and plates for dinner. Is this part of the nutritional diet?
Your ability to teach, demonstrate patience and know when to push me was fantastic. I unfortunately had to leave before watching the 3:30pm class. However, I will attend a class on Tuesday of next week then sit down and sign up. Your commitment to your customers is commendable and admirable. Thank you both for demonstrating such warm respect and terrific humour.

Warm regards

Just wanted to say thank you to the coaches and supporting athletes within CrossFit Oshawa. The constant encouragement, coaching cues, and motivation provides the energetic atmosphere that I love being a part of. The camaraderie and excitement of stepping into the gym like I'm about to savagely pillage for Paleo Kits and Zone friendly recipes, creates a cohesiveness in our community that it unexplainable. Knowing that because of CrossFit I'm better than I was yesterday and that I'll be better tomorrow than I am today has me longing in anticipation for tomorrow's WOD. 'What's next – who cares, it's legit.
Crossfit is a fun, friendly, competitive environment that any true athlete should thrive on. The programming is the new movement of working out and training. I did similar programs with my hockey and soccer teams before I went away [to the states on an NCAA soccer scolorship] and they are nothing but beneficial. I would recommend this to people of all ages as they are tough trainers but can involve anyone in a work out. I plan on continuing their training for many years to come.
I am loving my membership at CrossFit Oshawa! I love the coaches and the members, the best gym club I've ever been a member of. Thanks so much for helping me change a lot of bad habits I had going on in my life. Colleen Cox member since 2014 ❤️